One of the automotive industry's most widely used international standards for quality management, ISO/TS 16949, is evolving with the publication of a new global industry standard by the International Automotive Task Force (IATF).
ISO/TS 16949, a technical specification for automotive sector quality management systems, has become one of the most widely used international standards in the automotive industry, harmonizing the different assessment and certification systems in the global automotive supply chain.
On October 3rd, 2016 IATF 16949:2016 was published by the IATF and supersedes and replaces the current ISO/TS 16949, defining the requirements of a quality management system for organizations in the automotive industry.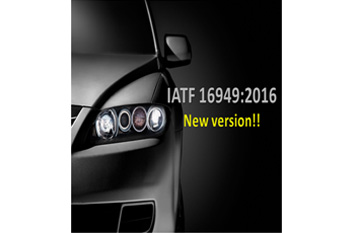 ISO/TS 16949 was first developed by the IATF in conjunction with ISO's technical committee for quality management, ISO/TC 176. As a result, ISO/TS 16949 integrated with ISO 9001 by including specific requirements from the automotive sector.
IATF 16949 is aligned with and refers to the most recent version of ISO's quality management systems standard, ISO 9001:2015, fully respecting its structure and requirements. IATF 16949 is not a standalone quality management standard, but is implemented as a supplement to, and in conjunction with, ISO 9001:2015. This means that an organization in the automotive sector seeking IATF 16949 certification must also comply with ISO 9001:2015
For organizations currently certified to ISO/TS 16949, here is a recommended action plan for transitioning:
Familiarize yourself ISO 9001:2015 and IATF 16949.
Perform an organizational gap analysis against ISO 9001:2015 and IATF 16949 to identify the differences that need to be addressed to ensure your organization's QMS meets all the new requirements, including those related to external providers.
Based on the results of the gap analysis, develop an implementation plan specific to your organization.
Provide appropriate training for all individuals involved in implementing ISO 9001:2015 and IATF 16949 at your organization.
Update your existing system and provide evidence that your organization meets the new requirements.
Some of the key changes in IATF 16949:2016 from ISO/TS 16949: 2009 include:
Adoption of the Annex SL: To maintain alignment with ISO 9001:2015, the automotive QMS standard also followed the high-level structure prescribed in Annex SL. The new standard now has ten major clauses that follow the same sequence as ISO 9001:2015. This is good news for organizations implementing integrated management systems that also follow Annex SL such as those certified under ISO 9001: 2015, ISO 14001: 2015, ISO 22301: 2012, ISO 27001: 2013, and planning on getting certified under ISO 45001: 2017.
Incorporation of customer-specific requirements in main text of the requirements: The inclusion of customer-specific requirements to the scope of the QMS along with other detailed requirements raised not a few eyebrows from industry practitioners. While fulfillment of customer-specific requirements had been present in ISO/TS 16949, the present standard requires evaluation of each customer's requirements and inclusion in the organization's quality management system where applicable. Detailed requirements, such as specific duration, also tend to be 'almost prescriptive'.
Requirements on product safety : In order to address issues pertaining to product and process safety, this new clause requires organisations to document their processes for managing product-safety related products and processes. This includes relevant statutory and regulatory requirements, FMEAs and control plans, reaction plans, and other requirements.
Risk-based thinking: Along with FMEA, preventive actions, and other proactive measures of addressing risks, IATF 16949 follows the risk-based thinking approach of ISO 9001:2015. Actions to address risks and opportunities are to be established and implemented where these are found to potentially cause significant effects to the intended outcomes of the automotive QMS. Risks are to be analysed and documented while preventive actions are established where needed.
Corporate responsibility: At a minimum, corporate responsibility initiatives should include an anti-bribery policy, an employee code of conduct, and an ethics escalation policy (i.e. whistle-blowing policy). This is to address the rising expectations from interested parties, especially in the areas of social responsibility and environmental performance.
Competency requirements for first and second party auditors: Aside from the enhanced competency requirements for internal auditors, the standard extends the requirements to second party auditors. Documentation requirements include verification of competence and evidence of relevant training.
For organizations seeking certification to the new standard, it is recommended to first gain familiarity with ISO 9001:2015 and IATF 16949. A gap analysis should be performed to ensure that all new requirements are conformed with. Competency building, especially for the organization's internal and second party auditors, will also have to be done mainly through awareness and interpretation courses as well as auditor training courses. Finally, organizations will need to establish, maintain, and improve their automotive quality management system and build evidence of effective implementation.
Benefits of IATF 16949 Certification:
Every business that revolves around the automotive end of things needs to have a quality management system in place for proper functioning. While most business owners understand the need, they are not too familiar with the business benefits of IATF 16949 certification. Quite obviously, many businesses in the automotive sector demand to have a certification from their vendors, but what are the reasons? IRQS understands just how a certification like this can help you, let us look at some of the benefits that are offered.
When you have a technical specification for automotive supply chain, you are guaranteed easy marketing through any source, the reason being any company would want to work with you because of your high standard of quality. Because of this you would see more people wanting to work with you and lesser rejections on product quality.
Better reputation: Since these standards are one that is a must in the industry, you would have the best reputation in the market. Competitors and industry experts would look at you as a company that provides the best quality in the business.
Better efficiency: With the advantage of having such IATF 16949 certification, you would have better efficiency within the system. This would reduce your losses and increase the profitability of the company.
Chances for a global expansion: Having many quality standards in your organization gets the attraction of global interests. You would be able to get collaborations internationally and even have offices opened in different areas just because you have a certification in place.
Quicker learning for your employees: Every aspect of the IATF 16949 certification is documented and kept in check. The processes and procedures that are kept will help new employees learn the working style immediately and are well versed with the technique in no time
Other benefits for System Internal or external are as below:
implementation and enhancement of documentation
systematization of management activities and processes
full customer-orientation
enhancement of processes
improvement of products quality
reduction of the amount of shortages and repairs
increase of effectiveness and productivity
improvement of inside communication
raising employees' morale
reduction of costs and increase of profits
maintenance of cleanliness
improvement of communication
mutual respect among the staff
employee integration with the company's targets
improvement of the customers' opinions on the quality of products or services
marketing tool
better access to domestic and foreign markets
increase of customer satisfaction
improvement of customer relations
competitive advantage
greater possibilities of gaining new sectors on domestic and foreign markets
increase of profitability
reduction of customer audits
reduction of customer complaints
For more information on how we can help your organization gain certification to IATF 16949, feel free to contact us.